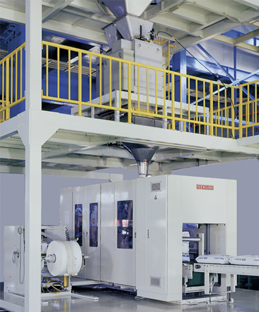 The world fastest Bag Making & Filling System
All operation from PE roll unwinding to finished bag (filled bag with its bag top sealed) delivery conveyor is performed in one consecutive process. There whole process, including bag making, products filling and bag top sealing, is automatic and controlled on the panel (operated by PLC unit installed inside). The machine incorporates a net weigher with a high-speed chute, operates at maximum speed of 1,650 bags per hour (based on filling 25 kg weight rate of resin pellet).
Catalog Download
| | |
| --- | --- |
| Max. Capacity (bags/hour) | 1650 (based on filling 25 kg weight rate of resin pellet) |
| Bag Materials | Mono-polyethylene tube roll with gusset |
| Filled Weight (kg) | 25 |
| Empty Bag Size (mm) | L700-850 ✕ W380-460 ✕ GW35-80 |
| Distance between gussets (mm) | standard 260 |
| Bag Bottom | Seal Impulse seal |
| Bag Mouth | Seal Impulse seal |
| Corner Seal | Hot plate |
| Air consumption (Nℓ/min.) | 1270 (0.5MPa) |
| Power Required (kW) | Approx.24 |
| Outer Diameter (mm) | Max.1400 |
| Inside Core (mm) | 150 |
| Film Thickness (mm) | 0.08-0.2 |
CONSTRUCTION
Bag Making Station
Drawing Unit/Dance Rollers: Keeping adequate web tension and bag length, it draws web to downstream.
Pin-hole Device: Perforating vent pin-holes on the bag to get-off air during palletizing after filling bags.
Corner Sealing Unit: Sealing corners of bags for optimum bag shape to get the stability of bags.
Bottom Sealing/Cooling Unit: Sealing bag bottom, cutting for bag mouth and cooling the bottom.
Products Filling Station
Bag Clump/Opening Unit: Bag clamp bars hold bags and open the bag mouth.
Filling Chute/Spout: Filling the weighed products into bags through spout inserted into the bag mouth.
Top Sealing/Cooling Unit: Sealing and then cooling the bag top firmly before discharging bags.