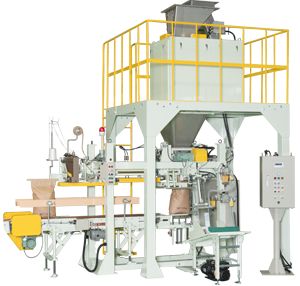 Compactly designed automatic Bagging System.
Especially for rice, wheat or grain. Automatic system for bag feeding (by means of swing system), bag forming, and bag closing.
Capacity (bags/hour)
max,250(depending on products, bag size and bag materials)
Bag Materials
Kraft paper bag, and PE bag
Bag Size Available (mm)
L750-850 × W420 × GW76 (Kraft paper bags)
L550-750 × W400-520 × 0.18-0.25t (Polyethylene bags)
Filled Weight (kg)
20-30
Power Required (kW)
Approx.3.0 for sewing machine (5.3 in case of heat sealer)
Air consumption (Nℓ/min,0.5MPa.)
Approx.200
Machine Weight (kg)
1300-1800
※Specifications subject to change without prior notice.
※Depending on products, bag size and materials.
OPTIONS
Bag inversion device
Sample packer
Number printer
Filler cord guide
Air compressor
Net weighing scale