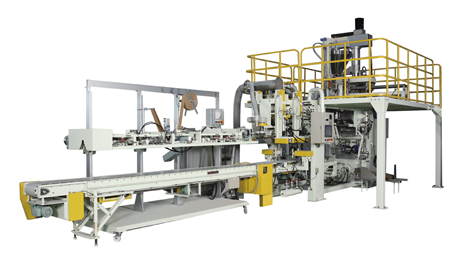 Suitable for food powdery products.
Model 3CM-5FG is gross weighing and bag lifting type-bagging machine with vertical auger feeder filling products to bottom of bags. Bag lifting up and down system prevents trapped air in products and powdery dispersion, minimizing products fall distance. It achieves high accuracy of weighing for powdery products and prevents dust generation at least level.
Auger screw with vacuum air inhaler can fill products to bags, decreasing bulk density. It can be disassembled and cleaned easily suitable for food products. The machine has the alternatives for air evacuation of vacuum air inhaler or additional weighing at the secondary section. Air ridding system makes bags of good shape for palletizing.
Catalog Download
| | |
| --- | --- |
| Capacity (bags/hour)*1 | 200 |
| Products | fine/powdery/granular products |
| Filled Weight (kg) | 20-30 |
| Weighing accuracy*2 | ±1/500 |
| Bag Materials | Kraft paper bag, PP/PE bag |
| Bag Size Available (mm)*3 | L 700-1000 W 450-550 |
| Power Required (kVA) | Approx.50.7 |
| Air Consumption (Nℓ/min.) | 1000 (0.5MPa) |
| Dust volum*4 | approx. 5kg/1000bags |
| Machine Weight (kg) | 3000 |
※1(depending on products, bag size and bag materials)
※2(depending on products' character)
※3(advised kindly customer's size except for the above)
※4(according to actual data)