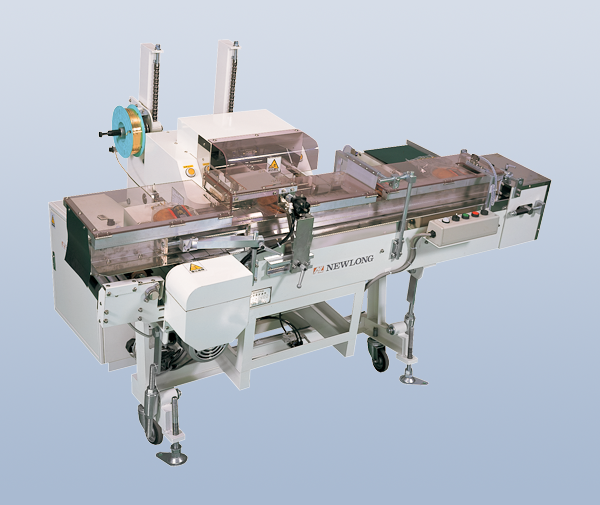 Bags are laid down on conveyor after the other inter-geared packaging machine and a sensor detects incoming bags.
The intermittent conveyor transports bags one pitch at a time. Bags are folded as fan-top shape and tied while the conveyor is stopped after centering position. The conveyor starts again to discharge bags after tying.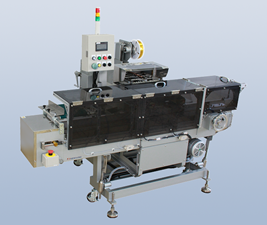 ■sample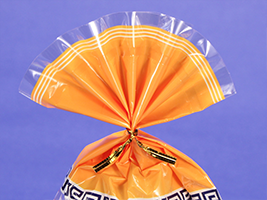 Both ends of bags are folded as fan shape and tied.
■Electrically operated type

MACHINE DIMENSIONS

1,890L×1,520W×1,735H

WEIGHT

465

POWER REQUIRED

200V. 3PH. 2800W

AIR CONSUMPTION

0

BAG FEEDING

Slat top conveyor (un-continuous moving)

TIE WIDTH

4

BAG WIDTH

265mm

SPEED

MAX. 40Bags⁄min

■Air type

MACHINE DIMENSIONS

1,920L×1,200W×1,200H

WEIGHT

435

POWER REQUIRED

200V. 3PH. 1000W

AIR CONSUMPTION

260Nl⁄cycle, 0.5Mpa

BAG FEEDING

Slat top conveyor (un-continuous moving)

TIE WIDTH

4

BAG WIDTH

260mm

SPEED

MAX. 40Bags⁄min